Mission
EQ-Arts supports higher arts education institutions through its provision of both external review and consultancy on their internal process of self-evaluation and enhancement of their quality systems with the aim of promoting a strong quality culture across the European higher arts education sector.
Vision
EQ-Arts is an independent sector-specific (Arts) not for profit organisation with two closely related yet distinct activities with a focus on enhancement-led quality assurance for higher arts education across the Europe Higher Education Area (EHEA) and beyond.
EQ-Arts fully embraces the four principles that underpin the European Standards and Guidelines for Quality Assurance (ESG) across the EHEA:
Higher Education Institutions (HEIs) have primary responsibility for the quality of their provision and its assurance;
Quality Assurance should be responsive to the diversity of higher education systems, institutions, programmes and students;
Quality Assurance processes should support the development of a quality culture;
Quality Assurance processes should take into account the needs and expectations of students, other stakeholders and society more widely.
EQ-Arts applies these principles in ways that respect the unique characteristics of higher arts education and honours the diversity of institutions in which the study of arts practice (in all its variants) is offered.
EQ-Arts recognises and upholds the following values:
EQ-Arts believes all activities involving institutions, programmes and stakeholders of the European Higher Arts Education sector must start from a position of trust and EQ-Arts aims to strengthen this and ensure a co-ordinated, bottom-up approach to them.
EQ-Arts is well connected to and known by the European Higher Arts Sector for its commitment to and respect for the sector's autonomy.
EQ-Arts fully recognises the needs of society and the world of work for the development of creativity and generative critical thinking, which are key attributes of higher arts education.
EQ-Arts stresses its commitment to value and promote cultural, artistic, and pedagogical diversity.
EQ-Arts firmly safeguards its independence as an organisation and of its activities, since it believes this is necessary to be best able to guarantee and enhance the quality of Higher Arts Education.
EQ-Arts upholds its values (listed above) guided by the following:
placing particular emphasis on securing and enhancing the student learning experience that supports students to become creative mediators in today's rapidly changing societies and communities;
promoting student-centred approaches to learning, teaching and assessment;
encouraging the constructive alignment of teaching and learning activities, and assessment tasks;
encouraging institutions to develop and enhance a quality culture which underpins their mission and vision;
operates a review methodology based on peer review, in which the participation of students, relevant professional bodies and/or employers as stakeholders is embedded;
ensuring that all its activities are underpinned by explicit criteria and transparent processes;
ensuring that all its processes are open to external scrutiny;
recognising a range of formally established external and international reference points and/or criteria (primarily guided by the 2015 ESG);
ensuring that the outcomes of its accreditation and assessment processes have formal status, are decided independently and are publicly available.
EQ-Arts Executive Group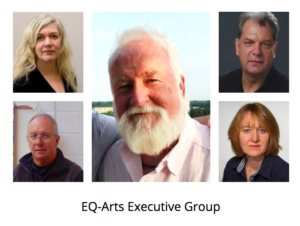 Professor John Butler (CEO EQ-Arts, UK)
Robert Baker (Independent QA&E consultant, Ireland/France)
Paula Crabtree (Vice-Chancellor, Stockholm University of the Arts, Sweden)
Professor Anthony Dean (Dean Faculty of Arts, University of Winchester, UK)
Maren Schmohl (Vice Rector, Merz Akademie, Stuttgart, Germany)
EQ-Arts Board
Chair Lars Ebert (Programme Director Castrum Peregrini and independent advisor for arts and education, Amsterdam, the Netherlands)
Secretary Dr. Sarah Bennett (Head of the School of Art and Architecture and acting Associate Dean at Kingston University, London, UK)
Treasurer Lucien Bollaert (Independent international QA expert, author and visiting professor, Belgium)
Philippe Hardy (International consultant French Ministry of Culture, France)
Bogdan Iacob (Director Department for Theoretical and Pedagogical Disciplines,
University of Art and Design in Cluj – Napoca, Romania)
Emma Järvenpää (student Board member, MA Arts and Culture, Netherlands)